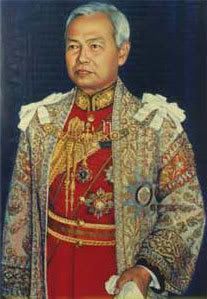 General Prem
's coalition government lasted 6 years (1981-87), two elections and a couple of parliamentary dissolutions resulting in the five cabinets listed below.

1st Prem Cabinet (3 March, 1980-11 March, 1981)

Coalition partners: Social Action Party, Chart Thai, Democrat, Chart Prachachon and Siam Democrat
Major opposition: Prachakorn Thai

2nd Prem Cabinet (11 Mar 1981- 8 Dec 1981)

Coalition Partners: Democrat, Chart Thai and a number of smaller parties including Siam Democrat, Ruam Thai and Social Democrat
Major oppposition: Social Action and Prachakorn Thai

3rd Prem Cabinet (9 Dec 1981-30 Apr 1983)

Coalition Partners: Social Acion, Democrat, Chart thai and a number of smaller parties
Major opposition: Prachkorn Thai

4th Prem Cabinet (30 Apr 1983-11 Aug 1986)

Colatition partners: Social Action, Democrat, Prachakorn Thai and National Democrat (replaced by the Progressive party in Sep 1985)
Major opposition: Chart Thai
(In Jan 1986, there was a reshuffle within the Social Action Party for its allocated quota of cabinet seats)

5th Prem Cabinet (11 August, 1986-28 April, 1988)

Coalition partners: Democrat, Chart Thai, Social Action, Rasadorn
Major opposition: Prachakorn Thai, United Democratic, Ruam Thai, Community Action, Progressive

Source: "The Military in Thai Politics, 1981-1986", by Suchit Bunbongkarn, published by the Institute of Southeast Asian Studies, 1987.
Taksin's politics wiped out nearly all political party alternatives, co-opting them all into TRT. At this moment, we don't have strong enough groups of representative of diverse voices to enter the parliamentary system as we had back then. Without a constitution and with the ban on political gathering, it would be difficult for any alternative political groups to be built in time to run competitively in upcoming elections.